What is different about Taper-Tite™ Flooring?

The Taper-Tite™ joinery only tightens down when the two pieces of adjoining flooring are in the "fitted" position. Because Taper-Tite™ has a "wedge tongue" the clearance needed to fit happens automatically. This featured joinery allows for up to 30% faster installation time and the ability to easily nail down flooring up to 16 feet long.

What about Taper-Tite™ lengths?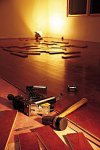 Longer is better. Shorts are generated when defects are cut from a length of flooring. The better the grade, the fewer the defects. Taper-Tite™ flooring is manufactured from lumber that is at least one grade higher than lumber used by any other manufacturer that we are aware of. Using better lumber is how Taper-Tite™ is able to produce long lengths. There is no magic to this process. Long lengths can only be obtained from better grades of lumber. We manufacture our flooring to order from a single lot of lumber enabling us to provide "lot matched" flooring for consistency. We offer the following lengths:
Cottage Grade: 12" (not more than 2%) to 10ft
Premium Grade: 30" (not more than 5%) to 12ft
What is different about Taper-Tite™ Featuring Balanced Seal Finishing™?

We are the only custom flooring manufacturer that we know of that puts a "full" coat of finish on the bottom side of the flooring. We feel that this step is essential to help stabilize wide plank flooring for today's environment. Taper-Tite™ guarantees four to five dry mills of wearable thickness. The number of coats applied on the surface is not what is important; the only thing to be concerned with is the dry mill thickness of finish that is applied to the wood's surface.

What are Taper-Tite™ Quality Standards?

We pre-straighten every piece of wood prior to manufacturing. The ends are precision end matched. The bundles are sized and wrapped to meet job specifications.



We Guarantee Consistent Quality From Manufacturing To Finishing.




Developed and Manufactured by


™
Peter DeVivi Productions, Inc.
2494 Kingdom Road
Waterloo, NY 13165
Ph - (800) 833-3710
Fax - (315) 568-6041
pdevivi@aol.com
Hardwood Specialists
NY Custom Flooring Company | New York Custom Hardwood Flooring Company | NY Solid Hardwood Flooring Company | New York Custom Flooring Company | NY Custom Hardwood Flooring Company | New York Solid Hardwood Flooring Company